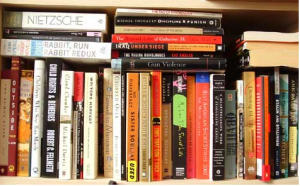 Think for a moment: which U.S. cities would lead a "best-read" list of books, magazines and newspapers.
Amazon has pulled together its sales since Jan. 1 and come up with its own best-read list. Looking at cities over 100,000 population, the list is based on per capita sales for print and digital products from Amazon. Remember, this is just Amazon, and there are lots of other ways to purchase books, magazines and newspapers, online and in print.
But it's still a fascinating list, if not definitive.
The winner?  Cambridge, Mass., home of Harvard and MIT.
Alexandria, Va., in suburban D.C., is second, followed by three college towns rounding out the top five: Berkeley, Ann Arbor and Boulder.
Any real surprises on the list?
Well, maybe Miami. You generally don't think of Miami as a reader's haven. But figures don't lie. Following Miami comes Salt Lake City, Gainesville, Fl., Seattle, Arlington, Va., Knoxville, Orlando, Pittsburgh and Washington, D.C., and Bellevue, Washington.
Rounding out the bottom five:  Columbia, S.C., St. Louis, Cincinnatti, Portland and Atlanta.